Based in Israel, SaferVPN was launched in 2013 to help customers surf the internet safely and anonymously.  The company has over 400 servers in 30 countries that provide customers with unlimited access online.
Scroll down for a detailed review on the service based on our use of their free trial.
For starters, the website is very sleek and easy to navigate. It provides detailed information about their features and pricing. Signing up is pretty easy, all that is required is registering a valid e-mail address and password, then instantly receive an activation e-mail to start a free trial. Yes, SaferVPN offers an honest free trial through which customers can test and explore the benefits of the service before purchase. Not only this, but SaferVPN  also offers 14-day money-back guarantee.
Interface and Installation
The installation process is completely hassle-free. It takes only less than 5 minutes to install the app, then you are good to go online with complete privacy and anonymity. In addition, we have tried it on Windows and the app is very light. There isn't any storage problem nor does it cause the system to slow down.
As for the interface, it is very simple and immediately chooses for you the fastest server that grants you complete access to the web. Users have also the option to select from a list of servers at any minute. Just choose the desired server and hit "connect". We were provided with the Israel option and we were connected right away.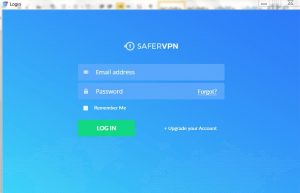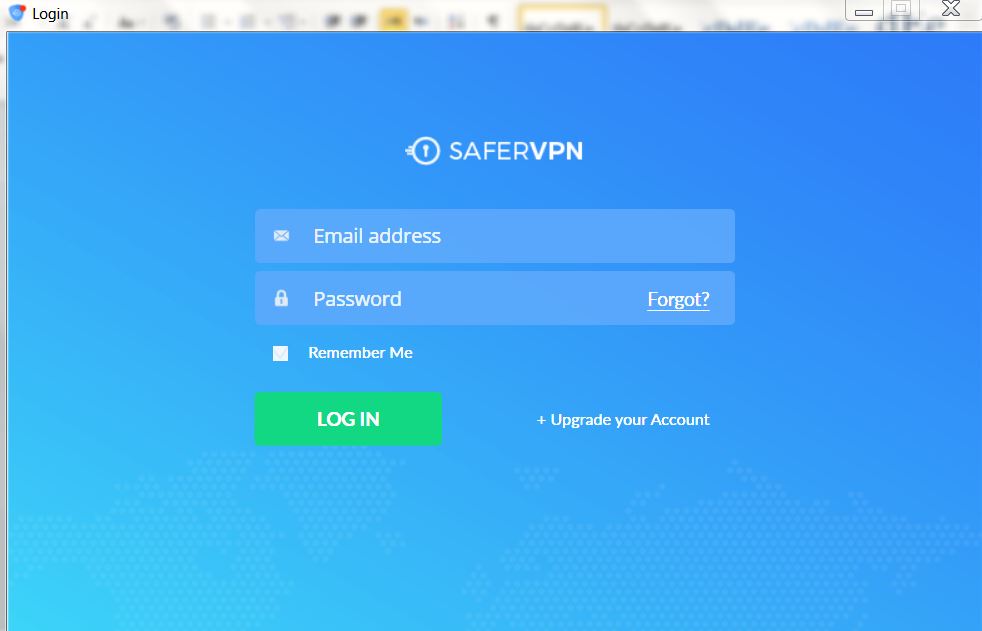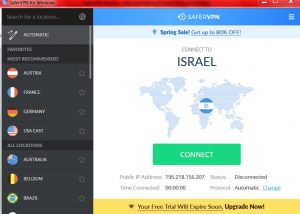 Privacy & Security
SaferVPN offers a myriad of different encryption protocols for users; such as: IKEv2, OpenVPN, L2TTP and PPTP to maintain a solid performance and fulfill all security needs. It's usually recommended to use OpenVPN as it is compatible with all platforms and gives optimal level of security and it is set by default on the application. However, users are free to switch between protocols in a heartbeat.
On the other hand, SaferVPN doesn't keep logs of your traffic as it is stated on their website, however, they keep some records of some of your session data such as: your original IP address, the IP addresses you have chosen, and your bandwidth. So, they're not quite solid when it comes to privacy.
Features
Compatibility
SaferVPN is compatible with several platforms;including: OS, Windows, Android, iOS and is compatible with routers and all devices.
One thing that might not be very hot about the service is that you cannot use SaferVPN on more than one device at the same time. You can only use it on one device at a time.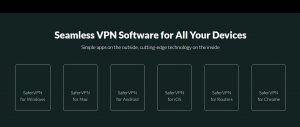 Unlimited Speed & Bandwidth
SaferVPN provides its clients with unlimited speed and bandwidth. This means that users can roam the internet and enjoy streaming videos buffer-free freely without any restrictions.
Automatic Wi-Fi Security
This is one of the excellent features provided by SaferVPN as it grants users full security when they are using hotspots or connected to public Wi-fi to with a "256 bit bank level security" to avoid identity theft and prevent hackers from prying on your personal data; such as: banking details personal devices and private messaging.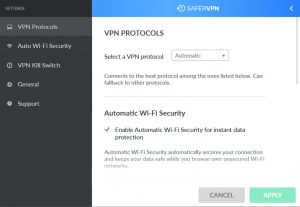 Automatic Diagnose Fix
Another impressive feature from SaferVPN is the automatic diagnostic fix tool. The application comes with  a built-in troubleshooting tool that automatically fixes any bugs or glitches to save customers any hassle and ensure that they are provided with as a seamless service as possible.
VPN Kill Switch
SaferVPN also comes with a kill switch. This feature is exceptionally ideal to ensure that a user's IP is never exposed or compromised when the VPN connection is disrupted.
Pricing and Free Trial
SaferVPN offers several price plans to meet everyone's needs.
Monthly Plan for $8.99
1 Year Plan for $5.99
2 Year Plan for $ 3.49
The company also offers a free trial as mentioned above to enjoy their services and test them before making a purchase. Furthermore, they offer a 14-day moneyback guarantee should any user finds their services unsatisfactory.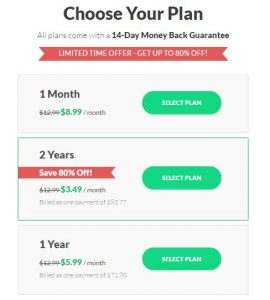 Payment Options
Customers can subscribe to SaferVPN through the following payment methods:
PayPal

Visa

Mastercard

American Express

Discover Card

Bitcoin

Alipay

WebMoney

YandexMoney

Mint
You have also the option to subscribe through Apple store. You can always check for more information concerning pricing on their FAQ page.
Support
A 24/7 customer support via live chat or email is available for subscribers to assist with any questions regarding the service. Moreover, the website includes a thorough FAQ and troubleshooting section.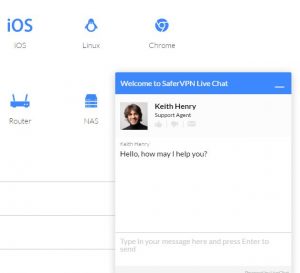 Conclusion
SaferVPN is a decent service that generally covers all the basic needs for any VPN  user. They might not provide sophisticated and tech savvy features, however, they do provide a solid application that gives a very impressive performance and met our satisfaction. Our only issue with SaferVPN is that it's lacking in terms of privacy as it keeps records and footprints of a user's session.
Pros:
Simple and easy-to-use interface
Fast servers
Kill Switch
Automatic Wi-Fi Security
Automatic Diagnose Fix
Different Encryption Protocols
Several customer support options that are available 24/7
Honest free trial and 14-day moneyback guarantee
Several Payment methods including Bitcoin
Cons
Privacy
Doesn't allow more that one device to connect at the same time
Torrent ban